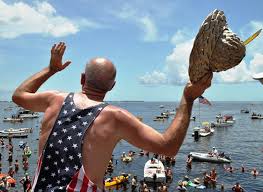 2019 FREEDOM SWIM INFORMATION TO BE POSTED HERE SOON.
THE 2018 SWIM IS NOW HISTORY, CHECK OUT OUR VIDEO:
2018 SWIM DETAILS:
There is no SWIMMER access AT the north side bridge this year, due TO construction OF THE NEW BOARDWALK.
There are TWO alternative ASSEMBLY areas this year
1. Travel by boat only to the traditional starting point near the north side of the bridge and hop in the water. The Star Spangled Banner will be performed this year by Ms. Brenda Peck at 10:55 AM  The swim begins immediately after the National Anthem.
2. Direct swimmer access is available at Gilchrist Park, just off Retta Esplanade in Punta Gorda. Easy, direct water entry can be had at the east side of the park, adjacent to the Punta Gorda Waterfront Hotel & Suites. 

Beginning at 10:00 AM A FREE ON THE WATER CONCERT WILL BE PROVIDED BY THE CATEGORY 5 BAND. The Star Spangled Banner will be performed by Category 5's own Brian Stover at 10;55 AM. The start of the swim begins immediately after the National Anthem.

Category 5's FREE CONCERT will then move out to marker #4, the point where the two freedom swims will combine for the last leg to Harpoon Harry's at Fishermens Village
THINGS TO KNOW:
There are TWO alternative starting areas this year. Folks usually assemble at the starting location at about 10:00 AM

The swim begins after the Star Spangled Banner has been sung at 10:55 AM

Swimmers are encouraged to have a spotter and a support vessel

Boaters & Swimmers are reminded to stay away from propellers
The 28th annual Freedom Swim from Port Charlotte to Punta Gorda will continue as a July 4 tradition though with a little bit of a twist because construction of a waterfront boardwalk blocks the traditional starting point at the foot of southbound U.S. 41 bridge.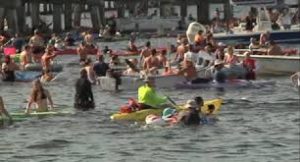 Michael Haymans, the Punta Gorda attorney who helped start the swim, said people who want to use that traditional starting point for the swim, should get there by boat, then hop into the water.
For people who can't get there by boat, Haymans said the alternate starting point is at Gilchrist Park — where people can park, enter the water and swim to the traditional finish line at Fishermen's Village at 1200 West Retta Esplanade.
"It will sort of be a Y route, two starting places, rather than one," Haymans said.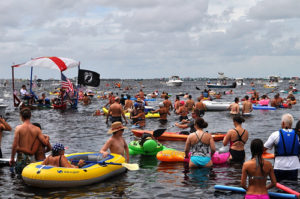 Hundreds of swimmers and paddler annually attend the Freedom Swim — flotation devices and swimming with a buddy are highly encouraged — which is scheduled to start at 11 a.m.
---
INFORMATIONAL WEBPAGE AND AERIAL DRONE FOOTAGE IS PROVIDED BY THE CATEGORY 5 BAND, PERFORMING OUR ANNUAL, LIVE, FREE ON THE WATER CONCERT – click here for more info